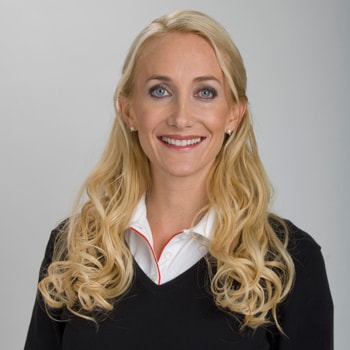 Seems like everyone is always asking, "So, who exactly is Krystal Koons?"
Krystal, the spokesperson for Jim Koons Automotive Companies, went to Loyola University in Baltimore, MD and graduated in 2000 with a B.A. in Public Relations. She started working with the Koons organization much earlier than that however.
At 16, Krystal, Jim Koons' daughter, worked in the Accounting department as an office assistant at the Koons Falls Church Ford location. She also filled in for the switchboard operator when needed. "What a hectic job," Krystal said.
When Krystal was 19, she began her first sales position selling cars during summers while home from college. She started selling full time in February 2001 at Koons Chevrolet Chrysler in Tysons Corner, VA. Upon completion of her GMAC Finance Training program in 2003, Krystal became a Finance & Insurance Manager. Eight months later, she was promoted to Chevrolet Sales Manager.
"I led a fantastic team of sales people. It was the best job for me within the dealership," Krystal explained. "My favorite part of the car business is working with people, interacting with them, and giving them options that work with their wants, needs, and most importantly budget. Customer satisfaction is without a doubt one of the most important facets of the car business. I love to put smiles on their faces."
After two years as the Sales Manager, Krystal became the face of Koons. "It is an honor to represent the family business," Krystal stated.
Outside of work, Krystal enjoys golfing, pilates, and supporting charitable organizations like Calvary Women's Shelter, Tragedy Assistance Programs for Survivors (TAPS), and Homes For Our Troops.
Krystal also loves time with family and friends. "I feel extremely blessed and fortunate to have such a close-knit family," Krystal said.
About Jim Koons Automotive Companies:
Founded in 1964, Koons is one of the area's largest retail automotive dealers. Koons has sold and serviced two million vehicles and employs more than 1500 people in 19 locations throughout the Washington DC, Baltimore, and Philadelphia region. For more information about Koons, visit koons.com
If you'd like more information about this topic or to schedule an interview with Krystal Koons, please email the Marketing Department at [email protected]